Research Program
Research at the Institute for European Integration Research (EIF) focuses on European Union policies and the national and global effects of Europeanisation.
I. Areas of Research
We analyse, in particular, the EU's competences and regulatory activities with regard to problem-solving capacities in the multi-level European system.
Within this analytical field, the Institute lends itself to three closely related and non-exclusive research areas:
Internal EU policies, including justice, finance, energy, mobility and social policies;
The EU as an externally-oriented and global actor in various policy areas;
The implementation of the various forms of EU law and the resulting effects of Europeanisation;
II. Specific Approach to Research: Focus on EU Policy Areas
European integration is not a uniform, standardized phenomenon. An integral characteristic of EU integration is the existence of significant differences between individual policies. This applies even to the most fundamental factors, including:
The division of competences between national and supranational polities (e.g. exclusive authority in areas of competition and foreign trade; no or sluggish initial activity of the EU alongside that of member states with regard to defence policy, or in cultural issues and spatial planning);
The rules of decision-making, most importantly in the Council of the EU (e.g. majority voting for internal market liberalization, the need for unanimity in issues of social security and social protection of the labour force);
The inclusion of the European Parliament (e.g. approval needed for enlargement, hardly even non-binding consultation in foreign and security policies);
The degree to which typical steering tools are binding (e.g. compulsory minimum requirements in EU environmental law, non-binding recommendations in employment policy);
The degree of formalisation of the so-called "new modes of governance" (e.g. collective agreements between the social partners even formally recognised in the Treaties for EU social policy, while there are only informal consultations of private actors in many other policy areas);
Considering these and other differences specific to particular policies, systemic comparative analysis of various activities of the European Union allow for a better understanding of the European multi-level system. Central questions can thus be more easily analysed in cumulative, variable-oriented studies, including:
What determines problem-solving capacity as well as efficiency and effectiveness of the EU?
Which specifics of the division of competences or decision-making result in joint-decision traps and regulatory gaps?
Under what circumstances can integrative effects of long-term cooperation solve stalemates in EU decision-making?
In which policies does the EU act as a significant independent actor at the global level, and on which factors does the EU's influence depend?
To what extent are the EU's actions and decision-making abilities touched by international organizations?
The differentiated analysis of individual EU policies and their structured comparison is today an indispensable tool in European integration research, and is therefore expressly used by EIF in order to further the development of theories of political steering and of problem-solving in multi-level systems.
III. Research Fields
The EIF specializes in teamwork and focuses on collaborative projects in flexible combinations. The studies can be loosely divided into three separate thematic areas that at the same time intertwine. Two groups of EU-policies can be distinguished on the basis of either the member or third states being the main addressee. Consequently, each group is subject to specific conditions and dynamics. At the same time, EIF focuses on the (non-)implementation of EU policies and the effect of these measures in practice, which in turn vary according to sector and selected policy instrument.
Research Fields: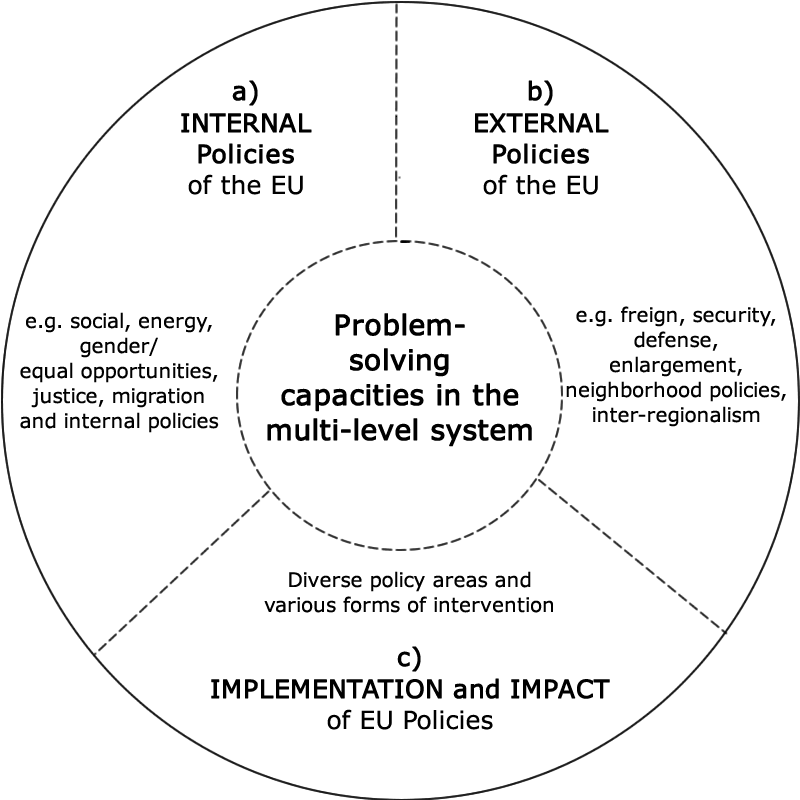 IV. Specific Research and Publication Strategies

Regarding research and publication strategies, EIF pursues a targeted policy that combines innovation and consolidation.
Present-day research faces major challenges: a) undue growth of publications with diminishing informational content and innovation; b) over-specialisation on specific issues, quantitative vs. qualitative methods, and/or the use of theoretical lenses; c) growing hurdles to the availability of publications for researchers outside the most wealthy research institutions due to the pricing policy of market-oriented publishers.
In view of these challenges, EIF serves the scientific community by performing an aggregating function:
EIF collaborative research projects involve the entire core staff and, where suitable, also external experts. In the 2008, just after the start of the new director and research program, the Treaty of Lisbon and its effects in different policies were studied (Working Paper 03/2008). The 2009-2011 project was on the "joint-decision trap" and the resulting book was published with Oxford University Press in June 2011. 2012-13, we studied if the EU actually exports its policies to the global level. Or is it, at least in some areas, rather a policy-taker? The book was published with Routledge in London. Most recently (2014-15), the EIF's staff and international guests analyse the effects of the ongoing economic, financial, and external relations crisis in different policies ... read more.
One example is our journal Living Reviews in European Governance. It is associated with the German Max Planck Society and solicits reviews on crucial sub-fields of EU studies by high-ranking international researchers. These texts condense knowledge of a specific area and transcend state-of-the-art research in EU studies by highlighting controversies and consensus, as well as indicating avenues for further research. They hence offer orientation in an increasingly complex research field. The published works are rigorously peer-reviewed and are freely accessible to the public via the internet.
Additionally, EIF's website hosts databases that collect and aggregate European integration research. In particular, two projects with Dimiter Toshkov from Leiden University offer an analytical synthesis of ALL known quality research with either quantitative or qualitative methods in the field of implementation of EU policies.
Through such public-interest projects and consolidating activities, EIF serves the scientific community in the field of European integration.